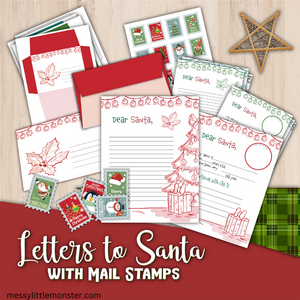 Printable Santa Letter Template
Get ready for Christmas with these printable Santa letter templates. Children will love using one of these Santa letter templates to tell Santa what they would like for Christmas.
They can use the lined paper that says Dear Santa to write their own letter or use the pre written template with spaces to add their own details.

The pre written template says: 
Dear Santa, 
My name is........ I am...... years old. I have been very........ this year. 

My Christmas wish list is:
1.
2.
3.
4.
5.
With love, 
There are several color options for each printable Santa letter template. Included on this pdf are also envelope templates that you can cut out and fold into envelopes as well as some Christmas stamps to add to your envelope. 
Santa letter
The bundle gives you a lot of options which is great if you have children of varying ages. The lines are far enough apart for new writers have the space to fit their words. I am very impressed!
Santa letter
Love it! cant wait to share with my kiddos
---
We Also Recommend