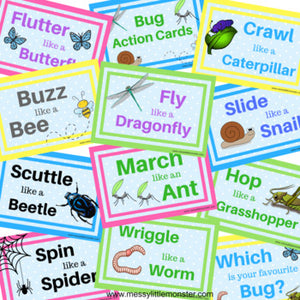 Bug Action Cards
Download and print out this fun set of bug action cards.  Get the kids moving as you call out the different bug themed movements on the cards. Can they buzz like a bee or wriggle like a worm?
There are 10 different bug action cards in total as well as a question card asking which is your favourite bug? These action cards are available as A4 posters and A6 cards (4 to a page). We would recommend laminating the cards.
Can't wait to play with my grandkids!
Bug Action Cards
Printed, laminated and cut out yesterday! Punched a hole in the corner and added a ring. 2 yr old had so much fun with her new book. Lots of giggles and wiggles as we tried to move like the bugs!
Bug action cards
Love the colorful cards and the actions they show!
Bug action cards
Thanks for this great, quality resource!!
---
We Also Recommend