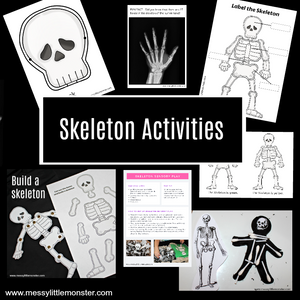 Skeleton Activities
- 7 easy and fun skeleton themed activities including sensory play, crafts and fun learning!
- Each activity is presented on a new page with easy to follow instructions.
- All printables needed for the activities are included.
- Each activity includes a supplies list and a quick tip or a fun fact.
- A total of 25 pages to print or read. 
(The 25 pages include a list of activities, 7 pages of activity instructions, a black playdough recipe and all the printables needed for the activities)
I picked this item for the Skeleton Craft to do with my PreK Class and our 3rd Grade Buddies. I love the simplicity of the skeleton, but appreciate that it still has enough detail to discuss with young students. It is going to be a great buddy project and will be really cute to hang up in our halls for spooky season.
Overall, it fit my purposes, the price was reasonable at $3, and there are other activities provided. With that said, the other activities really don't add a ton of value as they are simple manipulations of the same Skeleton clipart made smaller or bigger. The coloring book is the same image on every page with just the color words changed. I don't think there is anything terribly inventive here that would wow a teacher.
---
We Also Recommend