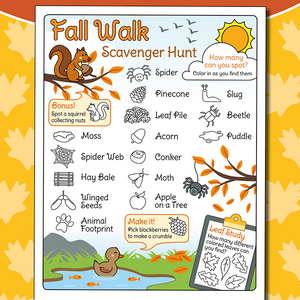 Fall Scavenger Hunt
Download and print out this fall scavenger hunt for kids. How many items can you spot? Color in the fall pictures as you find each item.
You will need to find the following items to complete the fall scavenger hunt:
Moss
Spider web
Hay bale
Winged seeds
Animal footprints
Spider
Pinecone
Leaf pile
Acorn
Conker
Moth
Apple on a tree
Slug
Beetle
Puddle
Bonus - spot a squirrel collecting nuts
There is also an option to collect as many different colored leaves as possible. 
fall scavenger
LOVE THIS TEMPLATE! My kids had so much fun with this all ages from 3-9 we all enjoyed and appreciated the creativity it gave us!
Fall Scavenger Hunt
My 8 year old granddaughter had a blast doing this walking on her way to school. I laminated it and used dry erase markers.
Very engaging
My class really loved doing this scavenger hunt. The colors on the page made it interesting for them too. Some things I would've liked to have seen on there would be: squirrels, birds, rabbits, and just bug rather than specific type of bug. Well done!