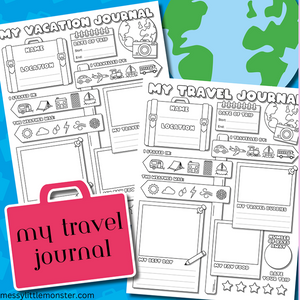 Kids Travel Journal Printable
Use this fun and eye-catching kids travel journal printable to keep a record of your adventures.
This one-page travel journal printable has been kept simple so even young children can use it to recap their trip.
Included on the kids travel journal is a space to write the child's name, location and the date of the trip. 
Children can color in a choice of images to show how they traveled, where they stayed and what the weather was like.
There are then spcaes to draw or write about the best day, fav food, who they traveled with and the number of days they were away.
Kids can then complete their travel journal printable by rating their trip. 
There are 3 versions of this printable, one has the header - my travel journal, one says my vacation journal and the final one says my holiday journal. 
---
We Also Recommend