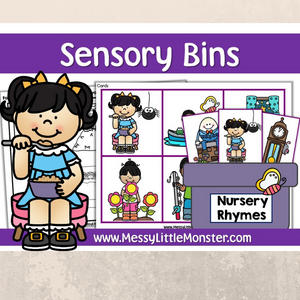 Nursery Rhyme Sensory Bin Printables
Use these nursery rhyme sensory bin printables with toddlers and preschoolers to set up a nursery rhyme themed matching activity and to encourage them to sing their favorite nursery rhymes.
Fill a sensory bin with a simple filler like colorful shredded paper, colored rice, etc and then cut up one set of the colored cards and hide them in the bin. I would recommend laminating them for prolonged use.
Invite children to hunt for the cards in the sensory bin. As they find the cards they are to match them to the second colored card. Alternatively they can color in the images on the black and white follow up activity sheet. 
To add interest you could add other nursery rhyme themed items to your sensory bin such as small props etc. 
Find out more about how to set up a
sensory bin

here