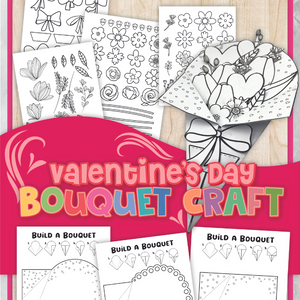 Paper Flower Bouquet Craft
Build a paper bouquet and fill it with paper flowers! This paper flower bouquet craft is perfect for Valentine's Day or Mother's Day.
Start by building one of the 4 bouquet designs using the directions on the printable. You can print the design onto colored paper or color/ paint your chosen design.
Once you have created your bouquet color or paint a selection of the flowers, leaves, ribbons and hearts. Then fill your bouquet by cutting out and glueing on your paper flowers. 
---
We Also Recommend