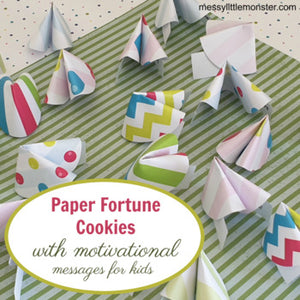 Paper Fortune Cookies
Print out the motivational messages and place them inside paper fortune cookies. Instructions for making paper fortune cookies on my blog.
Great project for preschool and kinders!
Great quick project! We made our own fortune slips. Students loved it!
Fortune Cookies
So here's the scoop - my husband and I have our grandkids on Mondays and I had the supplies and had printed the clever and wonderful "fortune" enclosures and was ready! And one of them tested positive for COVID and they all been together over the weekend, so no kids today. 🥺. It'll have to wait until next week.
Paper fortune cookies
School wide Specials are doing a unit about the 2022 Winter Olympics. This quick and meaningful little project was perfect for early finishers. As a bonus the kids like creating messages for their friends!
---
We Also Recommend