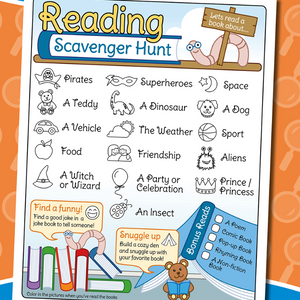 Reading Scavenger Hunt Printable
Have fun with this printable reading scavenger hunt for kids. Children will love coloring the images as they read books on the many different themes.
This is a cute activity for parents and children to do together, all while encouraging a love of reading.
Reading Scavenger Hunt
I will use this as a counselor in a school - to give students an incentive to read and tell me about it!
Novel idea!
This is a wonderful twist on not only a scavenger hunt, but on a way to get kids to want to read a variety of genres!
Best Place to Get Activities for your Little Ones
Great activities for my grandchildren! Always inexpensive, great fun and the Grands love them. We have ages 15-3 yo and they love coming to grandma's house for the fun.
Good descriptive title.
Love the fun way to encourage reading with this bookish scavenger hunt.
---
We Also Recommend