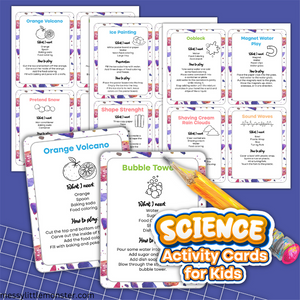 Science Project Ideas - Printable Cards
Have fun becoming scientists with these fun science project ideas. These printable preschool science activity cards give details of supplies, preparation and how to play for 24 fun science projects. 
The science project ideas included are:
ice painting
build a catapult
shape strength
sink and float
oobleck
magnet water play
shaving cream rain clouds
sound waves
orange volcano
bubble towers
pretend snow
milk magic
color changing flowers
leak proof bag
dancing raisins
lava lamp
salt painting
disappearing coin
sunscreen painting
sprouting sweet potato magic
There are 4 science project cards on each page and a total of 6 pages on this pdf. 
---
We Also Recommend